The model BFN-HFG10 ionizing air gun is a newly self-developed product of Shenzhen HORB launched in 2015. And we can say that it is an improved ionizing air gun based on BFN-HFG9. The model BFN-HFG10 is a movable static eliminator for eliminating dust and neutralizing static electricity, and features easy-to-use, convenient maintenance, safe use, etc. Also there are many other advantages such as:

1. Streams are switched by solenoid valves.

2. It can start working quickly and easily.

3. Fashion and novel appearance.

4. Light in weight and only 110g, so it is comfort for long time operation and the operator will not feel tired.

In a word, the model BFN-HFG10 is a perfect hand-held and high-performance ionizing air gun designed for a wide variety of industries, such as electronic manufacturing, food manufacturing, medical and assembly applications, and so on.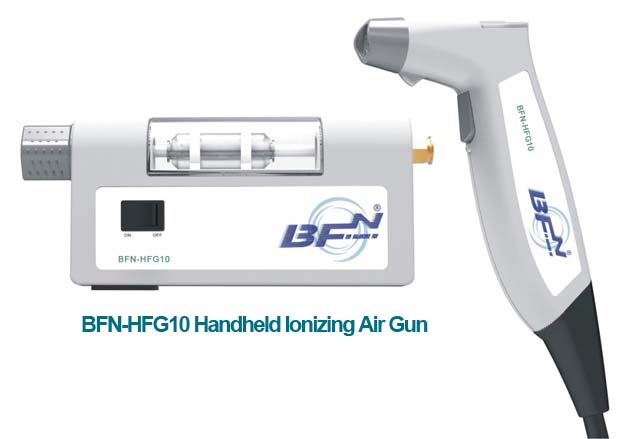 Specifications of this model BFN-HFG10 Ionizing Air Gun:
DC24V/500mA output (power input AC220/50HZ or AC110/60HZ)

Environment Temperature:0℃~50℃; Environment Humidity: 20%~80%RH (without frost)

Weight of Ionizing Blower

Power Box: W166mm x H84mm x D35.5mm


Gun Body: W210mm x H87mm x D26.5mm